Product Description
Edinh Customized Jaw Star Flexible Spider Coupling JM2-25
Specifications
1.The materials of Spider:German Bayer.
2.Hard Aluminum alloy
Your kind response of below questions will help us to recomemnd the most suitable model to you asap.
1.Areyou looking for Setscrew type or Clamp type?
2.what is coupling outer dimeter size?
3.what is coupling inner bore size and length?
4.what is coupling material(aluminium or Stainless steel )?
Dimensions:
Model
Inner bore
D
(mm)
L
(mm)
Nominal Torque
(N.m)
The Max of Torque
(N.m)
dmin
dmax
JM2-25
4
12
25
34
5.0
10.0
JM2-30
6
16
30
35
7.4
14.8
JM2-40
10
24
40
66
9.5
19.0
JM2-55
12
28
55
78
34
68
JM2-65
14
38
65
90
95
190
JM2-80
24
45
         80
114
135
270
JM2-95
30
55
          95
126
230
460
JM2-105
35
60
        105
140
380
760
Model
Allowable speed
(rpm)
Radial Misalignment(m.m)
Angular
Misalignment(°)
Axle
Misalignment(mm)
JM2-25
17000
0.02
1.0
+0.60
JM2-30
12000
0.02
1.0
+0.60
JM2-40
10000
0.02
1.0
+0.80
JM2-55
8000
0.02
1.0
+0.80
JM2-65
6000
0.02
1.0
+0.80
JM2-80
4600
0.02
1.0
+1.00
JM2-95
3800
0.02
1.0
+1.00
JM2-105
3400
0.02
1.0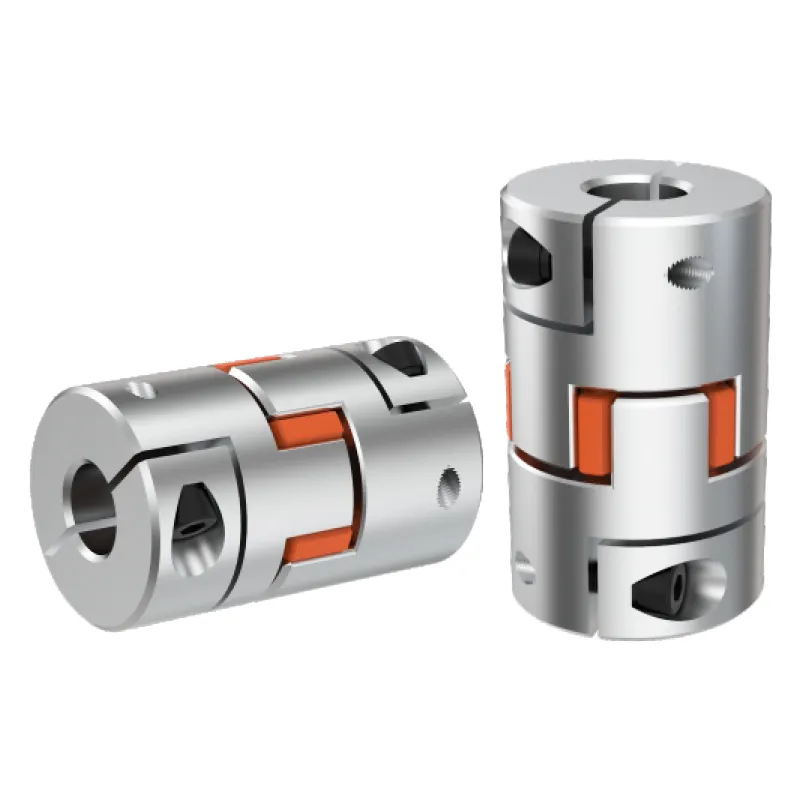 Minimizing Wear and Tear on Connected Components with Jaw Couplings
A jaw coupling plays a critical role in minimizing wear and tear on connected components by providing several key benefits:
Shock Absorption: Jaw couplings have a flexible elastomeric element between the two hubs, which acts as a cushion and absorbs shocks and vibrations. When the connected machinery experiences sudden jolts or impacts, the jaw coupling helps dampen these forces, protecting the equipment from damage and reducing wear on components.
Misalignment Compensation: In mechanical systems, misalignment between shafts is a common issue that can lead to premature wear on components. Jaw couplings can tolerate a certain degree of angular, parallel, and axial misalignment, allowing for better alignment between the driving and driven components. This feature helps distribute forces more evenly and reduces stress on connected components.
Resilience to Overloads: Jaw couplings can withstand temporary overloads, such as starting torque or sudden load spikes, without causing damage to the connected equipment. The elastomeric element of the jaw coupling acts as a torque limiter, protecting the machinery from excessive loads and preventing wear and tear.
Backlash Prevention: Backlash, which is the play or clearance between mating gears or components, can cause impact forces during reversing motions. Jaw couplings offer low backlash performance, reducing the potential for impact and minimizing wear on gears and other components.
Reduced Maintenance: By providing shock absorption, misalignment compensation, overload protection, and low backlash, jaw couplings help extend the service life of connected components. This, in turn, reduces the frequency of maintenance and replacement, leading to cost savings and increased productivity.
Smooth Power Transmission: Jaw couplings transmit power smoothly between the driving and driven shafts, resulting in less stress on components. The torsional flexibility of the elastomeric element helps prevent abrupt torque spikes, contributing to improved component longevity.
Overall, the jaw coupling's ability to absorb shocks, compensate for misalignment, handle overloads, and provide smooth power transmission makes it an effective solution for minimizing wear and tear on connected components. Regular inspection and maintenance of the jaw coupling are still essential to ensure its optimal performance and extend the life of the entire mechanical system.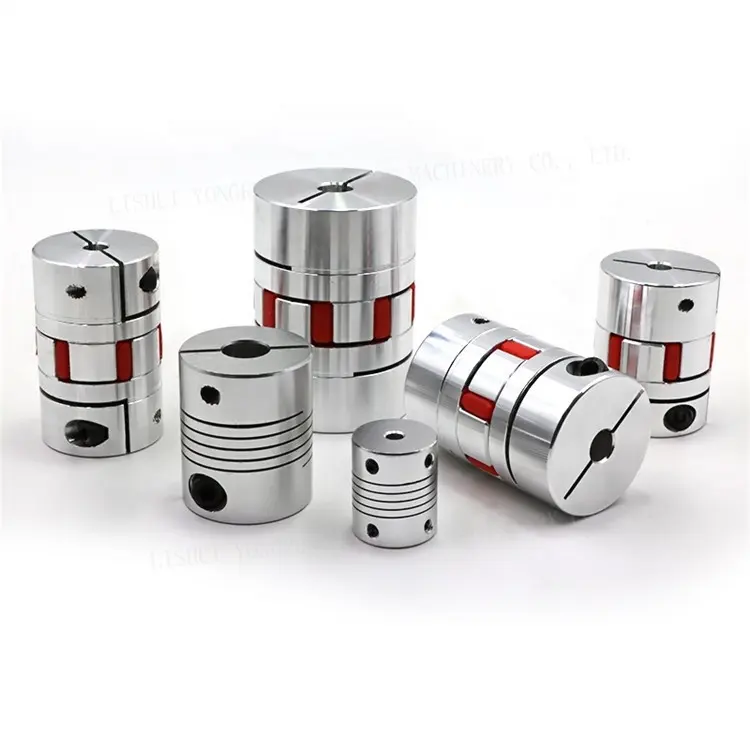 How does a jaw coupling deal with backlash and torsional stiffness?
A jaw coupling addresses backlash and torsional stiffness through its unique design features and choice of materials. Backlash is the amount of free play or clearance between the coupling components, while torsional stiffness refers to the resistance of the coupling to torsional or twisting forces. Here's how a jaw coupling deals with these aspects:
Backlash: Jaw couplings are designed to minimize backlash by ensuring a close fit between the elastomer spider and the jaws of the coupling hubs. The elastomer spider acts as a flexible intermediary that fills the space between the mating jaws, reducing any free play between them. This close fit reduces backlash and provides a more precise and responsive power transmission, especially in reversing or intermittent motion applications.
Torsional Stiffness: Torsional stiffness is achieved in jaw couplings by using materials that provide a balance between flexibility and rigidity. The elastomer spider in the coupling offers some flexibility, allowing it to absorb vibrations and dampen shocks. However, to ensure adequate torsional stiffness, the coupling hubs are usually made from sturdier materials like steel or aluminum. The choice of elastomer material and its geometry also influences the torsional stiffness of the coupling. Some applications may require coupling designs with higher torsional stiffness to maintain the accuracy and stability of the system, while others may benefit from more flexible couplings that can accommodate misalignments and shock loads. Overall, the combination of the elastomer's flexibility and the coupling hub's rigidity results in a coupling with a balanced torsional stiffness that can meet the specific needs of the application.
In summary, a jaw coupling minimizes backlash by providing a close fit between the coupling components, and it achieves torsional stiffness by using a combination of flexible elastomer materials and rigid coupling hubs. These design considerations make jaw couplings suitable for a wide range of applications that require reliable power transmission, precise motion control, and the ability to handle misalignments and shocks.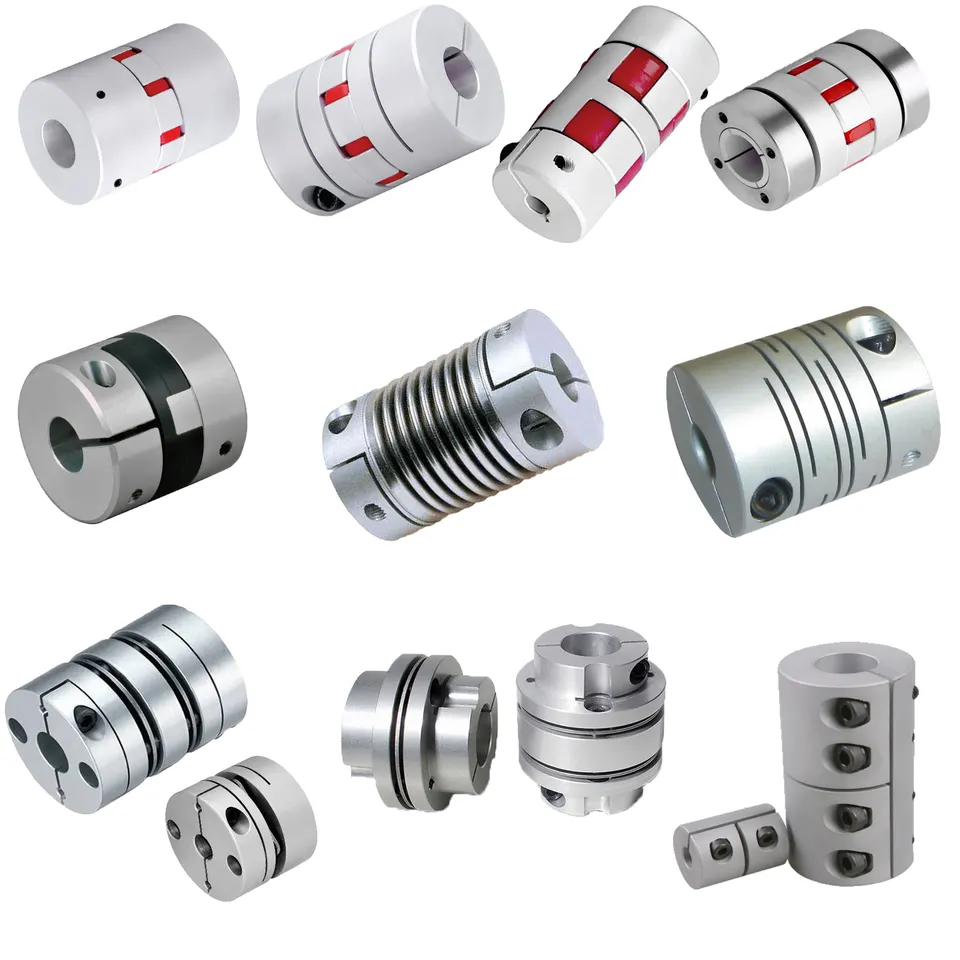 Comparing Jaw Couplings to Other Types of Couplings in Performance
Jaw couplings offer certain advantages and disadvantages compared to other types of couplings, and their performance characteristics vary based on the specific application requirements. Here's a comparison of jaw couplings with some commonly used coupling types:
Jaw Couplings vs. Gear Couplings: Jaw couplings are more economical and easier to install than gear couplings. They can handle misalignment to some extent, but gear couplings are better suited for high torque and high misalignment applications.
Jaw Couplings vs. Disc Couplings: Both jaw couplings and disc couplings provide some level of misalignment compensation, but disc couplings offer higher torque capacity and better torsional stiffness. Jaw couplings are generally more cost-effective for low to moderate torque applications.
Jaw Couplings vs. Oldham Couplings: Jaw couplings are torsionally stiffer than Oldham couplings, which means they provide more accurate torque transmission. However, Oldham couplings can accommodate higher misalignment and have no moving parts, making them suitable for some low-speed applications.
Jaw Couplings vs. Flexible Beam Couplings: Beam couplings are more flexible than jaw couplings and can handle higher misalignment. However, jaw couplings have a higher torque capacity and can dampen vibration better in certain conditions.
Ultimately, the choice of coupling depends on the specific needs of the application, including factors like torque requirements, misalignment, speed, and cost considerations. It's essential to carefully evaluate the performance characteristics of different coupling types and select the one that best suits the demands of the mechanical system to ensure reliable and efficient power transmission.



editor by CX 2023-09-28