Product Description
L050 Jaw Coupling
AVAILABLE SIZES: 35, 50, 70, 75, 90, 95, 99, 100, 110, 150, 190, 225 
 
L100 Lovejoy L coupling ,L COUPLING ,L TYPE FLEXIBLE JAW COUPLING
1. Material :Cast iron GG25 
2. Good stability 
3. Easy to maintain 
4.OEM
 
L   coupling   have below advantage :
 
1. It is easy to maintain ,no need the tool can install 
2. Can undertake high torque 
3. Have the good buffer .
 
Features:
Economical and practical using
Easy pulling out
Simple construction and light weight
NBR rubber with excellent resistance to oil and drugs
Minimum space
No lubrication
 
 L coupling parameters and data :
 
 
Coupling type
Rated torque 
HP-100PRM
 
 
In-Lbs.
Horsepower Capacity at Varying Speed(RPM)
Max Bore
Rubber
Hytrel
Rubber
Hytrel
300
1200
1800
3600
 
L-035
3.5
 
0.0056
 
0.017
0.067
0.1
0.2
 3/8
L-050
25.2
 
0.04
 
0.12
0.48
0.72
1.44
 5/8
L-070
37.8
 
0.06
 
0.18
0.72
1.08
2.16
 3/4
L-075
75.6
 
0.12
 
0.36
1.44
2.16
4.32
 7/8
L-090
126
 
0.2
 
0.6
2.4
3.6
7.2
 7/8
L-095
176
 
0.28
 
0.84
3.36
5.04
10.8
 1-1/8
L-099
265
 
0.42
 
1.26
5.04
7.56
15.1
 1-3/16
L-100
278
 
0.6
 
1.8
7.2
10.8
21.6
 1-3/8
L-110
693
2079
1.1
3.3
3.3
13.2
19.8
39.6
 1-5/8
L-150
1071
3213
1.7
5.1
5.1
20.4
30.6
61.2
 1-7/8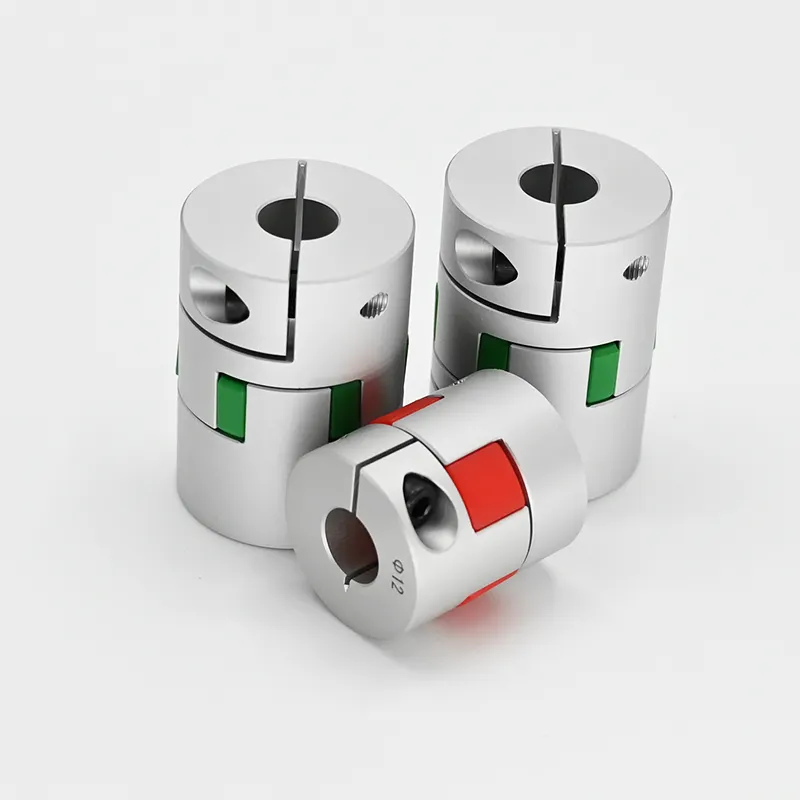 Reducing Downtime and Maintenance Costs with Jaw Couplings
Jaw couplings play a crucial role in reducing downtime and maintenance costs in mechanical systems. Here's how they contribute to improved efficiency and cost-effectiveness:
Shock Absorption: Jaw couplings feature an elastomeric spider between the hubs, which acts as a shock absorber. It helps dampen vibrations and shock loads, protecting connected equipment from sudden impacts. By minimizing the impact of shocks and vibrations, jaw couplings extend the lifespan of components and reduce the need for frequent repairs or replacements.
Misalignment Compensation: In real-world applications, shaft misalignment is almost unavoidable due to factors such as temperature variations, foundation settling, or minor assembly errors. Jaw couplings can accommodate angular and parallel misalignment, reducing stress on connected equipment and minimizing wear on shafts and bearings.
Fail-Safe Design: Jaw couplings are designed with a fail-safe feature. If the elastomeric spider fails due to wear or damage, the jaws of the coupling interlock, allowing the system to continue transmitting torque. This design prevents complete coupling failure and allows the machinery to keep running until scheduled maintenance can be performed.
Easy Installation and Replacement: Jaw couplings are relatively easy to install and replace, which helps reduce downtime during maintenance or equipment upgrades. With simple set-screw or clamp-type hubs, the couplings can be quickly installed or removed without disassembling the entire system.
Cost-Effectiveness: Compared to some other types of couplings, jaw couplings are generally more cost-effective. They offer reliable performance and misalignment compensation at a relatively lower cost. Additionally, the extended equipment lifespan and reduced maintenance needs contribute to long-term cost savings.
By providing shock absorption, misalignment compensation, fail-safe operation, easy installation, and cost-effectiveness, jaw couplings enhance the overall reliability and efficiency of mechanical systems, leading to reduced downtime and maintenance costs.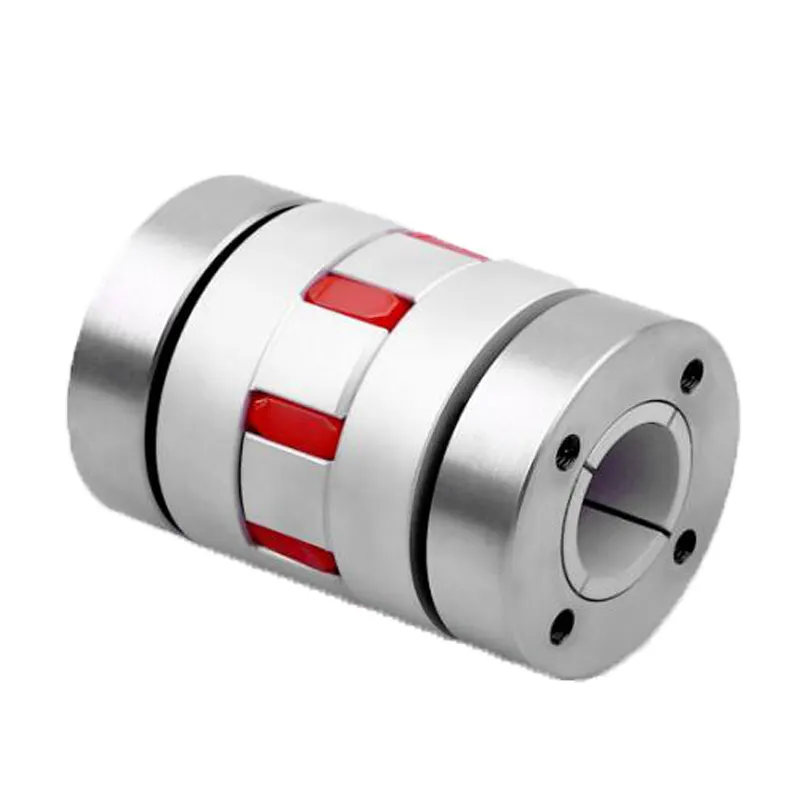 Can jaw couplings be used in marine and automotive applications?
Yes, jaw couplings can be used in both marine and automotive applications, and they have proven to be effective in various scenarios within these industries. Here's how jaw couplings are utilized in marine and automotive settings:
Marine Applications:
In the marine industry, jaw couplings are commonly used to connect the engine to various components, such as propellers, pumps, generators, and auxiliary equipment. They offer several advantages that make them suitable for marine applications:
Corrosion Resistance: Marine environments are exposed to saltwater and other corrosive elements. Jaw couplings made from materials such as stainless steel or other corrosion-resistant alloys can withstand these harsh conditions and ensure long-lasting performance.
Misalignment Compensation: Vessel movement and hull flexing can lead to misalignment between the engine and driven components. Jaw couplings can accommodate both angular and parallel misalignment, ensuring efficient power transmission even in dynamic marine conditions.
Vibration Damping: The elastomer spider in the jaw coupling absorbs vibrations generated by the engine and other equipment, contributing to smoother operation and reduced wear on the components.
Compact Design: Space is often limited on boats and ships. Jaw couplings have a compact and lightweight design, making them suitable for applications with space constraints.
Automotive Applications:
In the automotive industry, jaw couplings are used in various applications, including power steering systems, engine-driven accessories, and HVAC blowers. They offer several benefits for automotive applications:
Misalignment Compensation: Jaw couplings can handle small misalignments that can occur due to engine movements or assembly tolerances, ensuring reliable power transmission and reducing stress on the drivetrain.
Vibration Damping: The elastomer spider in the jaw coupling dampens engine vibrations, contributing to a smoother and quieter ride for passengers.
Compact and Lightweight: In modern vehicles, lightweight components are essential for fuel efficiency and overall performance. Jaw couplings' compact design and low inertia make them suitable for automotive applications.
Cost-Effectiveness: Jaw couplings are often more cost-effective compared to some other coupling types, making them a popular choice for automotive applications where cost considerations are essential.
In conclusion, jaw couplings are versatile and can be successfully used in marine and automotive applications. Their ability to handle misalignment, dampen vibrations, and provide efficient power transmission makes them reliable components in various dynamic and demanding environments.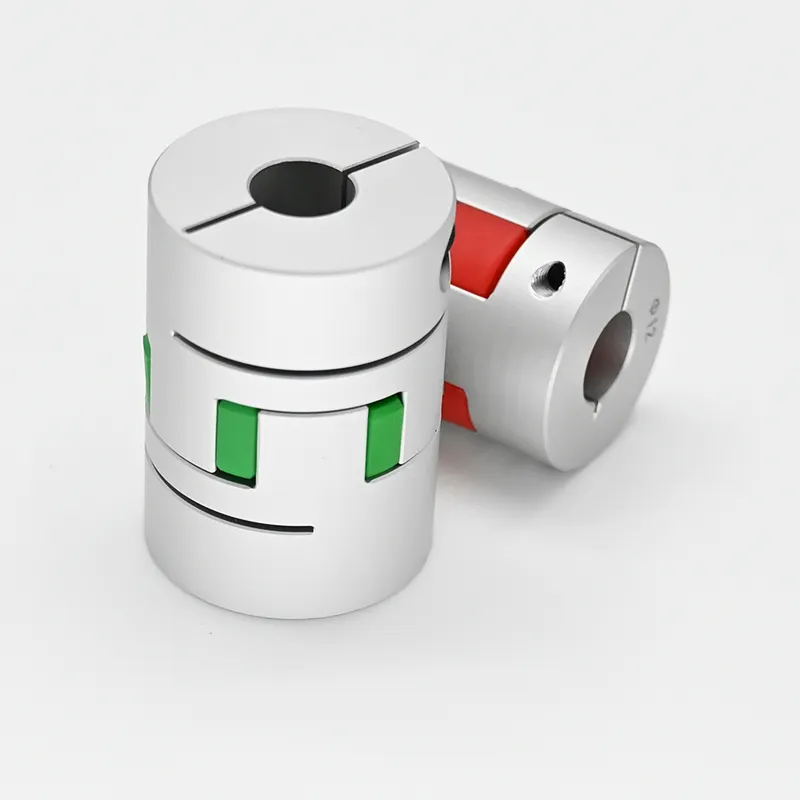 Selecting the Appropriate Jaw Coupling Size
Choosing the right jaw coupling size for a specific application involves considering several factors:
Torque Requirements: Determine the maximum torque that the coupling will need to transmit in the application. Make sure to account for any peak or intermittent loads.
Shaft Diameter: Measure the diameter of the shafts to be connected. The coupling's bore size should match the shaft diameter for proper fit and secure power transmission.
Speed: Consider the rotational speed of the application. High-speed applications may require special high-speed jaw couplings.
Misalignment Compensation: Evaluate the level of misalignment present in the system, including angular, parallel, and axial misalignment. Choose a jaw coupling with appropriate misalignment capabilities to avoid premature wear and failures.
Environmental Factors: Assess the environmental conditions, such as temperature, humidity, and presence of chemicals or contaminants, as these factors can impact the coupling's material selection and performance.
Service Factors: Some applications may have service factors that affect the required torque capacity. Apply service factors as needed to ensure the coupling can handle the application's demands.
Space Constraints: Consider the available space for the coupling. Ensure that the selected jaw coupling can fit within the given space constraints.
Compliance with Standards: If applicable, verify that the chosen jaw coupling meets industry or application-specific standards and regulations.
By taking these factors into account, engineers and designers can determine the appropriate jaw coupling size that will provide reliable and efficient power transmission in the specific application.



editor by CX 2023-08-21