Product Description
Product Description
Flexible couplings are used to transmit torque from 1 shaft to another when the 2 shafts are slightly misaligned. It can accommodate varying degrees of misalignment up to 3°. In addition to allowing for misalignment, it can also be used for vibration damping or noise reduction.
Encoder couplings, flexible coupling, couplings working with Encoder & all kinds of motors (servo motor, DC motor, AC motor, gear motors).
MODEL

OD(mm)

Length(mm)

Bore range(mm)

JM14

14

22

3-7

JM14C

14

22

3-6

JM16

16

22

3-7

JM16C

16

22

3-7

JM20

20

30

4-10

JM20C

20

30

4-10

JM25

25

34

4-12

JM25C

25

34

4-12

JM30

30

35

5-16

JM30C

30

35

5-16

JM40

40

66

8-24

JM40C

40

66

8-24

JM55

55

78

10-28

JM55C

55

78

10-28

JM65

65

90

12-38

JM65C

65

90

12-38

JM80

80

114

16-45

JM80C

80

114

16-45

JM95

95

126

20-55

JM95C

95

126

20-55

JM105

105

140

20-62

JM105C

105

140

20-62

JM120

120

160

20-74

JM120C

120

160

20-74

JM135

135

185

22-80

JM135C

135

185

22-80

"C" means clamp type jaw coupling   Without "C" means setscrew type jaw coupling
application
Packaging & Shipping
Company Profile
Related product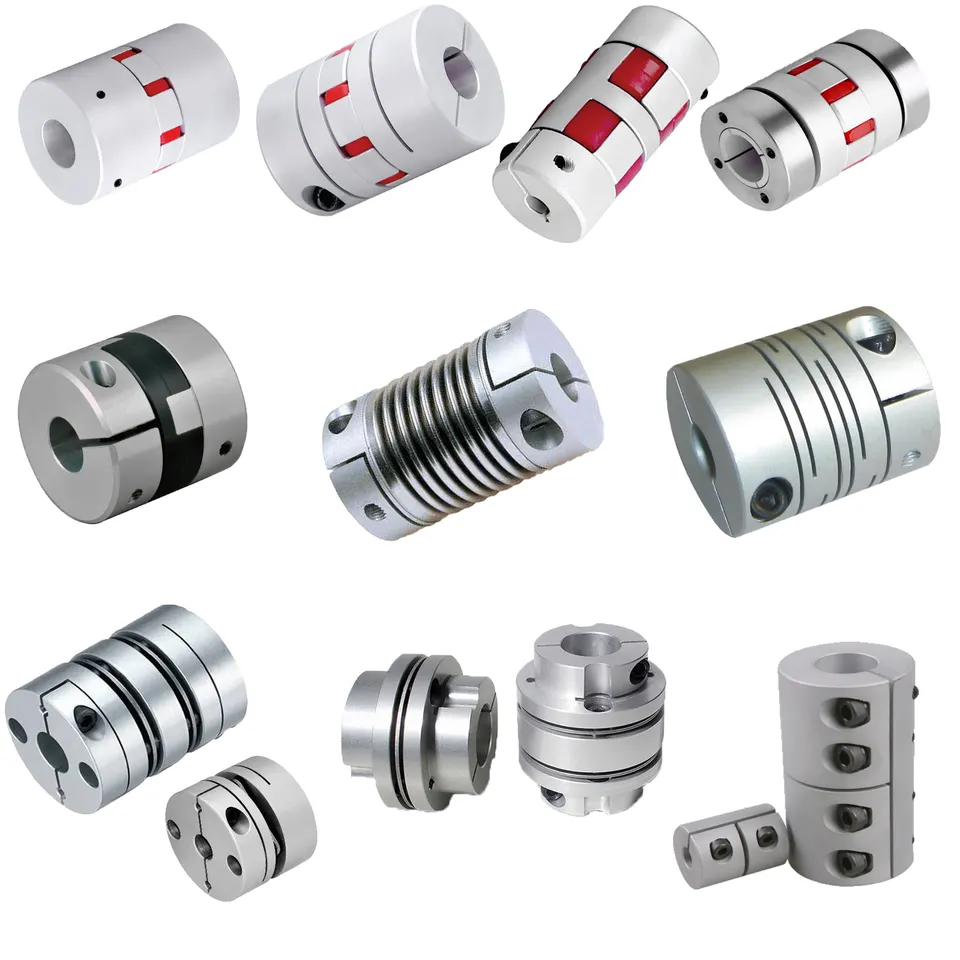 Impact of Jaw Coupling on Noise and Vibration in Mechanical Systems
Jaw couplings play a significant role in mitigating noise and vibration levels in mechanical systems. The design and materials of the coupling determine its ability to dampen vibrations and reduce noise. Here's how a jaw coupling affects noise and vibration in a mechanical system:
Vibration Dampening: Jaw couplings, especially elastomer jaw couplings, are designed to absorb and dampen vibrations that may occur in the system. The elastomeric spider element in elastomer jaw couplings acts as a cushion, absorbing shocks and vibrations that might result from misalignment, sudden starts, or stops. By absorbing vibrations, jaw couplings help prevent these vibrations from propagating through the system, thus reducing the overall vibration levels.
Noise Reduction: The vibration dampening properties of jaw couplings also contribute to noise reduction. Vibrations can lead to mechanical noise, which can be particularly pronounced in high-speed applications. By reducing vibrations, jaw couplings help decrease the noise generated during system operation. This is especially beneficial in applications where low noise levels are crucial for the comfort of operators or nearby occupants.
Misalignment Compensation: Jaw couplings are designed to accommodate a certain degree of misalignment between the shafts they connect. This ability to compensate for misalignment prevents additional forces and stresses from being transferred to the system, reducing the likelihood of generating noise and vibrations due to misalignment.
Material Selection: The choice of materials in jaw couplings can also influence noise and vibration levels. Elastomer jaw couplings, with their flexible spider element, offer superior vibration dampening compared to rigid metallic jaw couplings. Metallic jaw couplings, while not as effective at vibration dampening, are more rigid and offer higher torque capacity.
Overall, jaw couplings are effective in reducing noise and vibration levels in mechanical systems. The extent of noise and vibration reduction depends on the specific design, material, and the level of misalignment the coupling can accommodate. Properly selected and installed jaw couplings can contribute to a smoother and quieter operation of the entire mechanical system.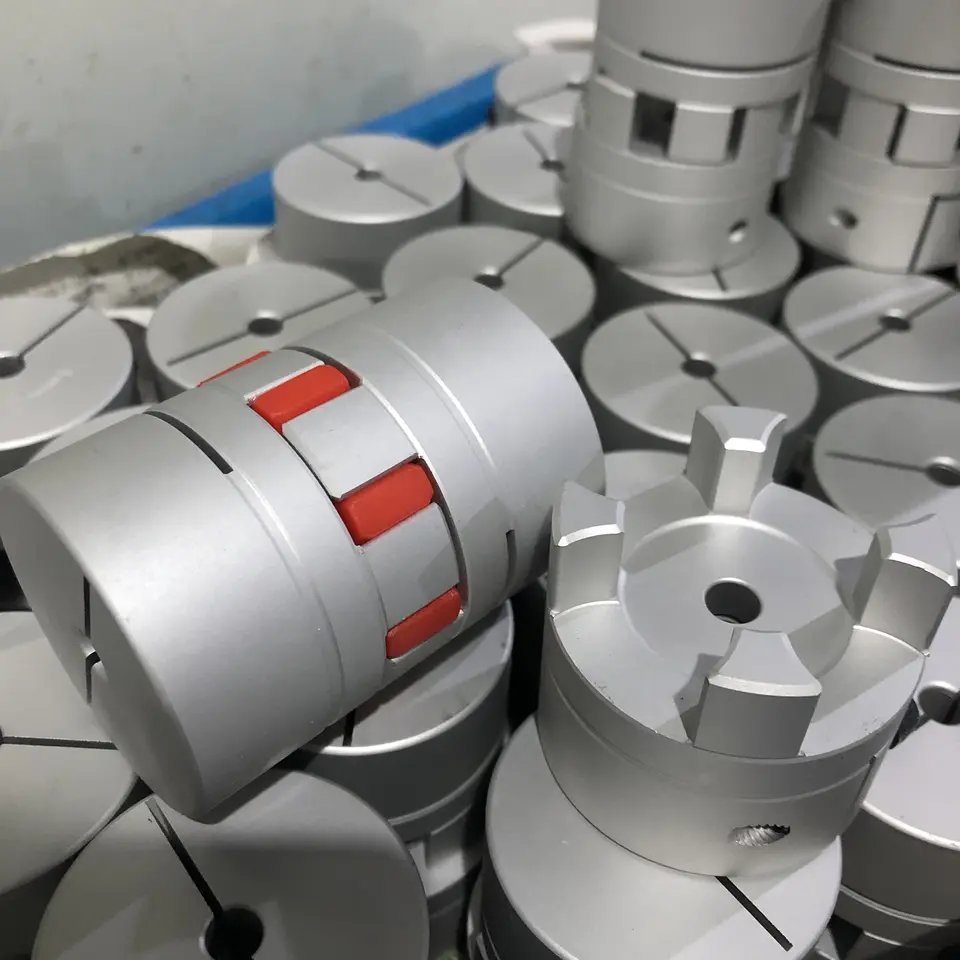 How does a jaw coupling help in power transmission efficiency?
A jaw coupling plays a significant role in enhancing power transmission efficiency in mechanical systems. It achieves this by incorporating several design features that minimize energy losses and maximize the transfer of power from one shaft to another. Here are some ways in which a jaw coupling helps improve power transmission efficiency:
Mechanical Flexibility: Jaw couplings utilize a flexible elastomer spider as the connecting element between the two shafts. This elastomer spider allows for a certain degree of angular and parallel misalignment between the shafts without imposing significant additional loads on the connected equipment. The mechanical flexibility of the elastomer helps reduce the generation of excess heat and vibration, thereby optimizing power transmission efficiency.
Vibration Damping: The elastomer spider in a jaw coupling also acts as a vibration-damping element. It absorbs and dissipates vibrations generated during the operation of rotating machinery. By dampening vibrations, the coupling reduces energy losses due to mechanical oscillations, which can otherwise decrease the overall power transmission efficiency.
Shock Absorption: In addition to damping vibrations, jaw couplings can handle sudden shocks and impacts that may occur during equipment operation. The elastomer spider's ability to absorb shocks prevents sudden force spikes from propagating through the system and helps maintain steady power transmission, thus improving overall efficiency.
Reduced Friction: The design of jaw couplings minimizes sliding friction between the shafts and the coupling components. This reduced frictional resistance results in lower energy losses and less heat generation during power transmission, contributing to higher efficiency in the system.
Torsional Wind-Up Compensation: When torque is transmitted through the shafts, there can be some degree of torsional wind-up or twist in the coupling. Jaw couplings can compensate for this torsional movement, ensuring that the transmitted power reaches the intended equipment without significant losses due to torsional deformation.
Simple and Robust Design: Jaw couplings have a simple construction, typically consisting of two hubs and an elastomer spider. This straightforward design reduces the number of moving parts and potential points of failure, resulting in a robust and reliable coupling. A reliable coupling minimizes the risk of power losses due to mechanical inefficiencies or breakdowns, thus improving overall power transmission efficiency.
In summary, a jaw coupling enhances power transmission efficiency by providing mechanical flexibility, vibration damping, shock absorption, reduced friction, and torsional wind-up compensation. Its simple and robust design further contributes to reliable power transmission. When selecting a jaw coupling for a specific application, it is essential to consider factors such as torque requirements, operating conditions, and misalignment compensation to ensure optimal efficiency and performance in the system.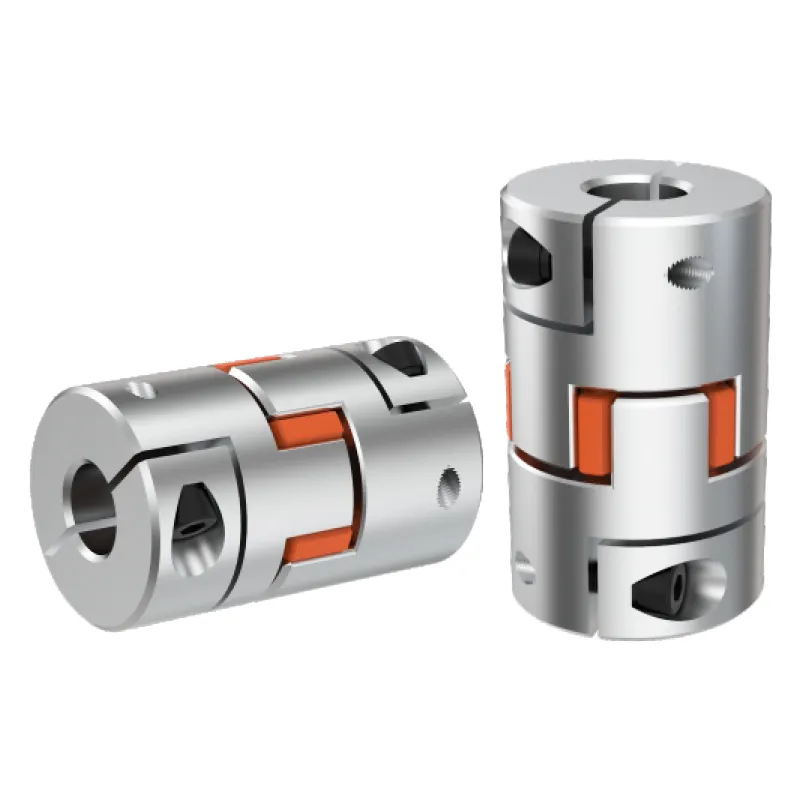 Materials Used in Manufacturing Jaw Couplings
Jaw couplings are commonly made from various materials, each offering different properties and suitability for specific applications. Some of the commonly used materials include:
Polyurethane (PU): PU jaw couplings are known for their flexibility, high elasticity, and resistance to abrasion. They are ideal for applications requiring vibration dampening and shock absorption.
Aluminum: Aluminum jaw couplings are lightweight, corrosion-resistant, and have good thermal conductivity. They are commonly used in low-to-medium torque applications.
Steel: Steel jaw couplings offer high strength and durability, making them suitable for heavy-duty applications with high torque requirements.
Stainless Steel: Stainless steel jaw couplings are resistant to corrosion and are often used in applications where there is exposure to moisture, chemicals, or harsh environments.
Bronze: Bronze jaw couplings are known for their excellent wear resistance and low coefficient of friction, making them suitable for applications with high-speed and low lubrication.
Acetal: Acetal jaw couplings provide good chemical resistance and low moisture absorption, making them suitable for applications where chemical exposure is a concern.
Nylon: Nylon jaw couplings offer good strength, flexibility, and resistance to wear and chemicals, making them suitable for various industrial applications.
The choice of material depends on factors such as torque requirements, environmental conditions, operating speeds, and budget considerations. Engineers and designers select the appropriate material to ensure that the jaw coupling can perform optimally and withstand the demands of the application.



editor by CX 2023-09-21