Product Description
Female Threads With Lock Guillemin With Helical Shank Jaw Coupling
The standard of Guillemin Coupling is EN14420-8 or NF E29572. Materials are mainly stainless steel, aluminum, polypropylene and brass. Guillemin hose couplings is connected with thread and locking ring (latch). It can be used with DIN2817 safety clamp. Working pressure is 10 bar. Guillemin coupling is widely used in industries of oil, chemical, fire protection, paper manufacture, construction and metallurgy.
 
Guillemin couplings, also referred to as French couplings are symmetrical couplings where to identical halves are assembled by joining the lugs and turning the locking ring to ensure a good connection.
Pros:
Simple and easy connection
Has a locking ring and soft seal
Large free flow area
Aluminum couplings are lighter in weight than stainless steel
Suitable for water, fluids, hydrocarbons, chemicals, and dry loose materials
 
| | |
| --- | --- |
|  Product Name: | Guillemin Camlock Coupling |
| Sizes: | 1" – 4" (DN25-DN100) |
| MOQ: | 50 pcs |
| Certificates: | CE, ISO9001:2015 |
|  Standard: | EN14420-8 /NF E29572  |
| Material: |  Stainless steel 316/ 304, Aluminum, PP |
| Working pressure: | 10 bar |
| Feature: | Light, flexible and interchangeable. To connect and disconnect without a tool. Economical |
| Application: | it is widely used in oil, chemical industry, fire fighting, paper manufacture, constructoin and metallurgy |
| HS code: | 7609000000 |
Our Advantage
We are experienced as we have been in this industry as a manufacturer for more than 10 years. Both of quality and service are highly guaranteed. Absolutely prompt delivery. We can produce according to specific drawings from customers. Welcome OEM/ODM project. Strict control on quality. High efficient and well trained sale service team.  ISO9001, CE and SGS certified.
FAQ
1.Q: Are you a producer or trading company?
   A: We are an experienced manufacturer. We own production line and kinds of machines.  
2.Q: Can you make our specific logo on the part?
    A: Yes please provide me your logo and we will make your logo on the part.
3.Q: Can you manufacture products according to my drawings?
   A: Yes we can manufacturer according to client's drawings if drawings or samples are available. We are experienced enough       to make new tools.
4. Q: Can I get some samples?
    A: We are honored to offer you our samples. Normally it is for free like 3-5 pcs. It is charged if the samples are more than 5        pcs. Clients bear the freight cost.
5. Q: How many days do you need to finish an order?
    A: Normally it takes about 30 days to finish the order. It takes more time around CHINAMFG season, or if the order involves many        kinds of different products.  
6. Q: What kind of rubber washer do you apply to camlock couplings?
     A: Normally we use NBR gasket.
contact-info.html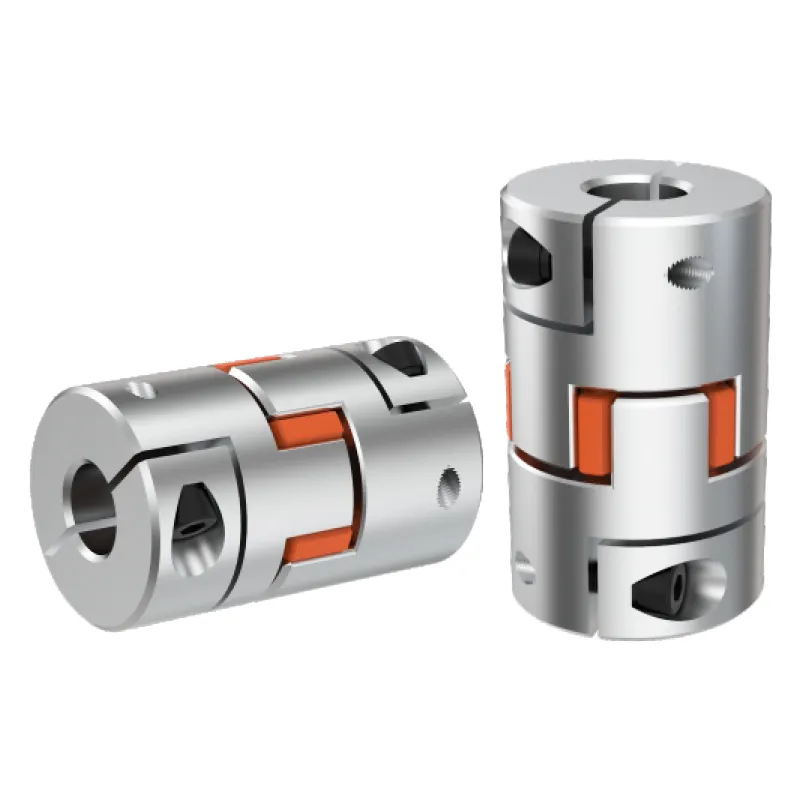 Impact of Jaw Coupling on the Overall Reliability of Connected Equipment
A jaw coupling plays a critical role in enhancing the overall reliability of connected equipment in mechanical power transmission systems. Its design and features contribute to various aspects that positively influence reliability:
Misalignment Compensation: One of the key benefits of jaw couplings is their ability to accommodate misalignment between shafts. By allowing for angular, parallel, and axial misalignment, the jaw coupling reduces stress on connected equipment. It helps prevent excessive forces and shaft bending that can lead to premature wear or failure.
Shock Absorption: The elastomeric spider element used in jaw couplings acts as a shock absorber. It dampens vibrations and shock loads, protecting connected equipment from sudden jolts or impacts that could cause damage or fatigue over time.
Torsional Damping: Jaw couplings provide torsional damping, reducing the risk of torsional vibrations that can negatively affect equipment performance. By minimizing vibrations, the coupling contributes to smoother operation and extended equipment life.
Fail-Safe Design: In the event of a spider failure, jaw couplings often offer a fail-safe design. The spider is a replaceable component, and its failure does not typically lead to catastrophic failure of the coupling or connected equipment. This characteristic enhances the overall system reliability and simplifies maintenance.
Low Maintenance: Jaw couplings are relatively low maintenance compared to other coupling types. The elastomeric spider does not require lubrication and has a longer service life compared to metallic couplings. This reduces the frequency of maintenance activities, minimizing downtime and increasing equipment reliability.
Backlash-Free Operation: Some jaw couplings are designed to provide backlash-free operation, ensuring accurate motion transmission without play or clearance. This feature is particularly important in precision systems, preventing positioning errors and contributing to consistent performance.
Corrosion Resistance: Jaw couplings are available in various materials, including stainless steel and corrosion-resistant alloys. Choosing the appropriate material for the specific environment ensures the coupling's longevity and reliability, even in harsh operating conditions.
Reduced Vibration Transfer: By isolating vibrations, jaw couplings prevent the transfer of harmful vibrations between connected equipment. This safeguard is crucial in delicate systems where excessive vibrations could lead to malfunction or damage.
Overall, a well-chosen and properly installed jaw coupling positively impacts the reliability of connected equipment. It helps prevent mechanical stress, dampens vibrations, and provides a reliable connection between shafts, contributing to the smooth and efficient operation of the entire mechanical system.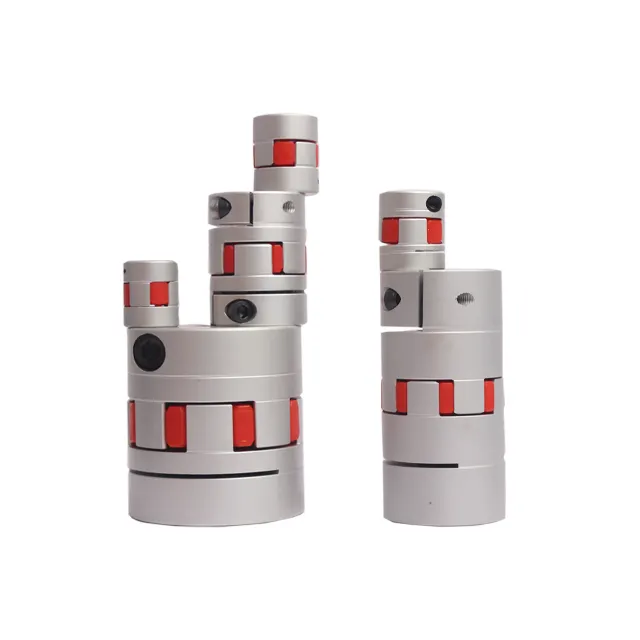 Can jaw couplings be used in heavy-duty applications such as mining and construction?
Yes, jaw couplings can be used in heavy-duty applications such as mining and construction, but their suitability depends on various factors. Jaw couplings are commonly employed in a wide range of industrial applications due to their versatility and ability to handle misalignment. However, when considering their usage in heavy-duty environments, several important aspects need to be taken into account:
Torque and Power Requirements: Heavy-duty applications often involve high torque and power demands. It is crucial to ensure that the selected jaw coupling is rated to handle the specific torque and power levels encountered in the mining and construction machinery. Choosing a coupling with a sufficient torque capacity ensures reliable power transmission without premature failure.
Material Strength: The materials used in the construction of jaw couplings play a critical role in their ability to withstand heavy-duty applications. Couplings made from robust materials, such as high-strength steel or alloy materials, are better suited for withstanding the demanding conditions found in mining and construction equipment.
Impact and Shock Resistance: Mining and construction applications involve significant levels of impact and shock loads due to the nature of the work. The jaw coupling must be designed to handle these dynamic loads without compromising its structural integrity. Some jaw couplings feature specially designed elastomers or flexible elements that provide additional shock absorption and reduce the transmitted impact forces.
Dust and Debris Management: Heavy-duty environments like mining and construction sites often contain high levels of dust, dirt, and debris. These particles can accumulate on the coupling surfaces and lead to premature wear and reduced performance. Selecting jaw couplings with appropriate sealing mechanisms or protective covers can help minimize the ingress of contaminants and extend the coupling's life in such environments.
Maintenance and Inspection: Regular maintenance and inspection are crucial in heavy-duty applications to identify any signs of wear, misalignment, or damage to the coupling. Proper maintenance practices can prevent unexpected failures and ensure the equipment operates efficiently and safely.
When considering the use of jaw couplings in heavy-duty applications like mining and construction, it is essential to consult with coupling manufacturers or engineering experts to select the appropriate coupling type and size for the specific application. Some heavy-duty applications might require more specialized coupling designs, such as grid couplings, gear couplings, or disc couplings, which are explicitly engineered for extreme conditions and higher torque capacities. Additionally, following the manufacturer's guidelines and recommendations for coupling installation, maintenance, and operating parameters is critical to ensure reliable and safe operation in heavy-duty environments.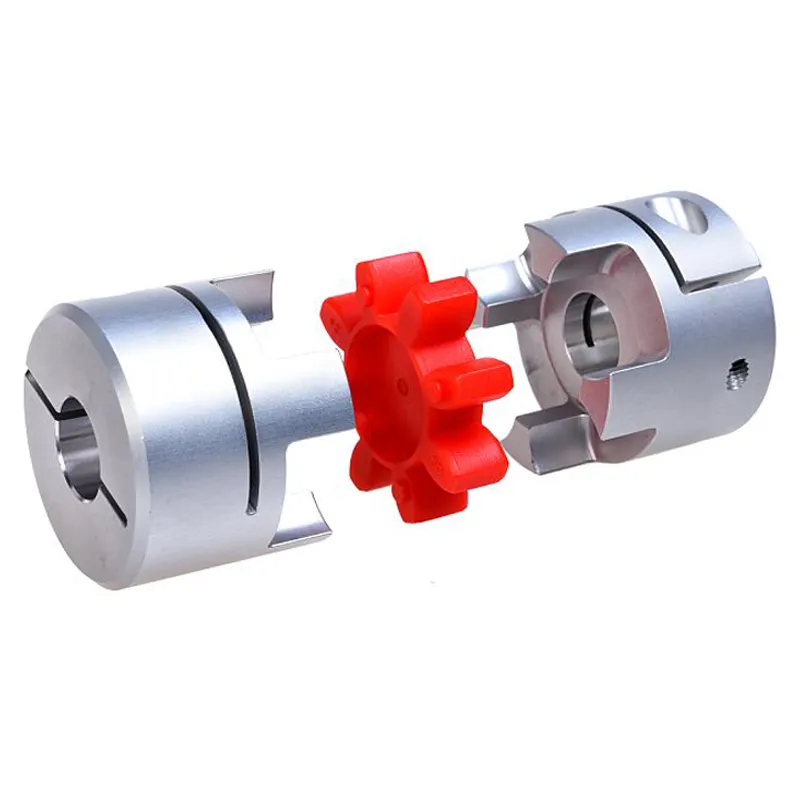 Limitations and Disadvantages of Using Jaw Couplings
While jaw couplings offer several advantages, they also have some limitations and disadvantages that should be considered when selecting them for specific applications:
Angular Misalignment: Jaw couplings are sensitive to angular misalignment, and excessive misalignment can lead to increased wear and reduced service life.
Radial Misalignment: Similar to angular misalignment, radial misalignment should be kept within acceptable limits to prevent premature wear.
Temperature Limitations: The operating temperature range of jaw couplings may be limited by the material used. For high-temperature applications, other coupling types may be more suitable.
Shock Load Absorption: While jaw couplings can handle moderate shock loads, they may not be ideal for applications with severe shock loads, which can lead to increased stress and failure.
Torsional Stiffness: Jaw couplings have a certain level of torsional stiffness, which means they may not provide the same level of vibration isolation as other coupling types.
Backlash: Jaw couplings can have some degree of backlash due to their elastomeric element, which may not be desirable in precision positioning applications.
Speed Limitations: High-speed applications may require careful consideration of the jaw coupling's design and material selection to avoid issues related to centrifugal forces.
Despite these limitations, jaw couplings remain a popular choice in many applications due to their ease of installation, simple design, and cost-effectiveness. Proper selection, installation, and maintenance can help mitigate some of these limitations and ensure optimal performance and reliability of the jaw coupling.



editor by CX 2023-10-07